Our theatre dates are non stop two hour shows that guarantee you'll be tapping your feet and singing along - even dancing in the aisles.
LATEST NEWS !
I'm delighted to be able to say that I'm still well on the road to recovery after four years fighting cancer and I'm back playing guitar, not yet at the standard  that I'm used to, but enough to look forward with optimism. We're already booking 2017 theatre shows and the lads that have got us through this difficult patch.  We have extended our working area and include some gigs further south as far as Banbury so keep a check on the gig list, we're having enquiries from all over the UK.
Our show last summer at Dronfield Civic raised just short of £1000 for Bluebell Wood Chidren's Hospice so thank you to everyone who made it a 'sell out'. We are doing it again in June 2017.
The concert at The Doncaster Dome in memory of Dick Van Winkle was a huge success and we enjoyed working with some fabulous acts including The Grumbleweeds, Bobby Knutt, Colin 'Fingers Henry and the superb Brian Conley who stepped in at the last minute for Joe Longthorne who was not well.
2017 shows on sale now and will once again include the very talented Stanley Fuller who will add some 'Four Seasons', 'Beach Boys' and 'Bee Gees' et al to our vastly growing repertoire. Stan was the original bass player and high voice in the band 'MAGIC' back in the day and we're delighted that he has agreed to join us again for next year's gigs.
Still working on material for a couple of new CDs, at least one of which should appear in the not-too-distant future.
PAST MASTERS can be booked by calling Dave on 01909 771999  
Hello, I'm Dave Robinson from Sheffield England.
 I play lead guitar with our all live band Past Masters, who got together to do a Cliff & The Shadows set to raise money for St Luke's hospice in Sheffield, only to be talked in to gigging as a band , because the shows went so well, the audience loved it. We pride ourselves on our live music, great rock & roll music which is really what this site is all about. After just over twelve months of appearing around the clubs in South Yorkshire, we were shocked but delighted to have been voted the best band by club goers and Mercury newspaper readers. A posse of news people from the press, radio and TV have taken an interest in the band, so we're running with it, long live rock & roll !
If you want a quick look at what we do, there are some video clips at the far right hand side of this page, taken from our theatre shows.
We specialise in the music of the late fifties through the sixties and seventies, and our line up of guitars, bass, drums and saxophone gives us a good variety of material to choose from. Our Cliff & The Shadows set is very popular, and a section of it is always included during a gig. We feature a lot of the great music of the period including Buddy Holly, Eddie Cochran, Elvis, Carl Perkins, Danny & The Juniors, Dion & The Belmonts,  The Beatles, Manfred Mann, The Hollies,  Rolling Stones right through to Brian Ferry, Gerry Rafferty, Dire Straits and even Tina Turner but to name a few. We play many dedicated rock & roll gigs for those who enjoy a good bop, and these are on our gig list for those interested.
We can also do  Cliff Richard and The Shadows, Buddy Holly and Elvis Presley  tribute shows, or a complete OH BOY type of show including the great hits of The Everley Brothers, Eddie Cochran, Johnny Cash,  Billy Fury, Carl Perkins etc etc . . . . the list is endless, as we are big fans of their music, and pride ourselves on the slick presentation associated with such great acts. Half the band picked up their first instruments as teenagers because of The Shadows, and the influence of their music is apparent here. For most of these type of shows we add extra members to the band .
We also cater for the sixties fans with numerous hits from artistes such as The Beatles , The Rolling Stones, Manfred Mann, Gerry & The Pacemakers , The Searchers etc etc . . . . and of course some of the great songs that were hits for Dave Berry - well three of us were in his band . . . . . 
Our show is full of nostalgia , and if you are not tempted to dance when we strike up, then you're probably too young !  Make no mistake, this is live music at it's best.
If you are fed up with the baggy shirt and funny hat brigade prancing around to over produced backing tracks, who claim to be acts, Have a look at our gig list and try and catch one of our shows, and if you enjoy good live music, you will be guaranteed a good nights entertainment.  But if you're  more of a karaoke merchant . . . . please don't come.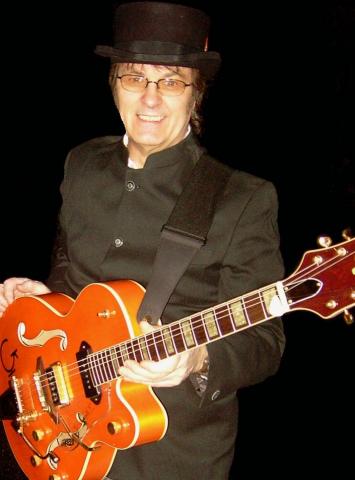 Email daverobinson22@btconnect.com
                          GIGS FOR 2017
We are always adding and changing material for our shows and we have stated
our latest show and original show in the listings, as well as our BUDDY HOLLY 
show with Andrew Morley, who played Buddy in the musical of the same name.
The shows listed in white are not available for booking as yet.
WE ARE ALWAYS ADDING NEW VENUES TO OUR LIST, SO KEEP A LOOK
OUT ON THESE PAGES AND ON OUR FACEBOOK PAGE.
SEPT 29  GUILD HALL GRANTHAM 
           LET'S ROCK THE JUKEBOX Autumn show
                        Box Office  01476 406158
OCT 14  TRINITY ARTS CENTRE GAINSBOROUGH
              LET'S ROCK THE JUKEBOX Autumn show
                       Box Office 01427 676655
OCT 28   DRONFIELD CIVIC HALL
              LET'S ROCK THE JUKEBOX Autumn show  
        Tickets from Malcolm & Deri 07778 773216 or 07816 120883
NOV  5     ACORN THEATRE WORKSOP
              LET'S ROCK THE JUKEBOX Autumn show
                               Box Office 01909 501817
NOV  12   FRAZER THEATRE KNARESBOROUGH
                           LET'S ROCK THE JUKEBOX Autumn show
                     Tickets on sale soon Pear Music 01423 864120
DEC 9     PHOENIX THEATRE CASTLEFORD
                      LET'S ROCK THE JUKEBOX Autumn show
                              Box Office  01977  664566
We are delighted to announce that former bassist and vocalist with 'Magic', Stan Fuller,  has joined Past Masters for our upcoming theatre productions. Stan will add the high voice that none of us possess and allow us to extend our repertoire to include material by The Four Seasons, Beach Boys, Bee Gees and similar sounding bands, giving our audiences more variety. Stan also has some wonderful solo numbers as well as duets that we are planning for him to sing with Jock.
Our main source of work will be in theatres around the country and maybe the odd club of our choosing.
We are of course happy to perform at special events such as weddings, anniversaries, birthdays etc as always. 
We can be seen at the Dusty Miller at Barlborough Jnc 30 of the M1 on a Thursday.
These are free and easy nights where we chill out and play for fun, along with a pub quiz and free supper.
Alan Jones, pictured on the left is a former bass guitarist of The Shadows and plays with the band by arrangement. He is a honorary PAST MASTER.